Jiangsu Province has a long history in the production of handicrafts known in and outside of China for their great varieties, goo quality, and fine workmanship.
Yuhua (Raining Flower) Stones
Known locally as jadepatterned agate, the stones have a solid quality and are widely collected. People put them in water jars or in the painting studios to beautify life. The stones can also be carved into art works.
Suzhou embroidery
Suzhou embroidery has a long history and features fine workmanship. There are reversible embroidery, doublesided different colored embroidery, and doublesided embroidery with different patterns in different colors.
Yangzhou laquerware
It is a timehonored, sumptuous, high-grade ornament. There are six kinds of lacquerware, including carved red lacquerware inlaid with jade, lacquerware with bone or stone inlay, red lacquerware, and lacquerware h motherofpearl inlay. The products come out in more than 500 varieties.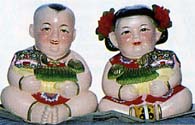 The Wuxi Clay Figurines
The craftsmen of Wuxi use clay from Huishan Hill to make figures, birds, and animals by means of artistic exaggeration.
The Yixing Purple Sand Pottery
Pottery making has a history of over 5,000 years in Yixing. The products are made of purple sand (red clay) unique to Yixing and then baked. Simple and unsophisticated in shape, they are articles for daily use and ornaments as well.